Dolomite Mountains & Sella Ronda
VAL GARDENA, ITALY
$2,395: March 1-9, 2024
Non-stop BOS/EWR Flights • Hotel • Breakfasts • Awesome Dinners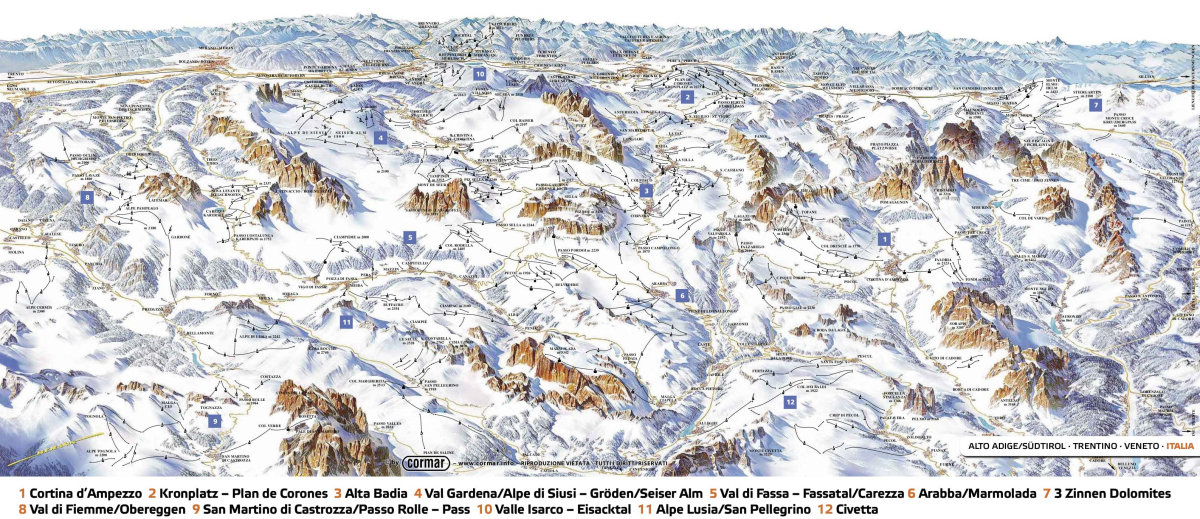 Aosta: Italy, France & Switzerland: Feb. 17-25, 2024
Dolomites Ski & Snowboard Trip!
Call 888.828.0096 or Email for Info.
Tour Details:
Join us in the Italian Dolomites, renowned for exceptional beauty and miles of terrain. From our village, Ortisei, in the heart of Val Gardena, our days will be spent descending into three Italian provinces, enjoying world famous downhill runs, and we'll do the famous 16-mile Sella Ronda circuit, on another club trip of a lifetime!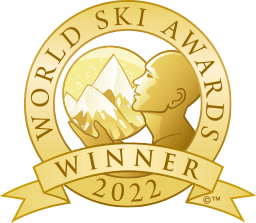 7 nights hotel with breakfast & awesome dinners INCLUDED:
Our Ortisei hotel boasts an exceptional location, situated a mere 400 meters from the Seceda gondola/cable-car, and an easy walk from the hotel, or hop on the Skibus. This strategic location is perfect not only for discovering Val Gardena, but also for exploring the entirety of the Sella Ronda and Dolomites region and beyond!
Hotel Rooms: bath/shower, WC, hairdryer, satellite TV, radio, alarm-clock and telephone.
Daily breakfasts INCLUDED
Awesome multi-course dinners with red & white wine INCLUDED.
First and second course choices along with a big buffet of salads, vegetables, cheese tasting, fruits and desserts!
Traditional Tyrolean entertainment evening, with regional specialties and traditional music INCLUDED.
Lift tickets ≈ $50-65 or IKON
Club group NON-STOP round trip flights INCLUDED: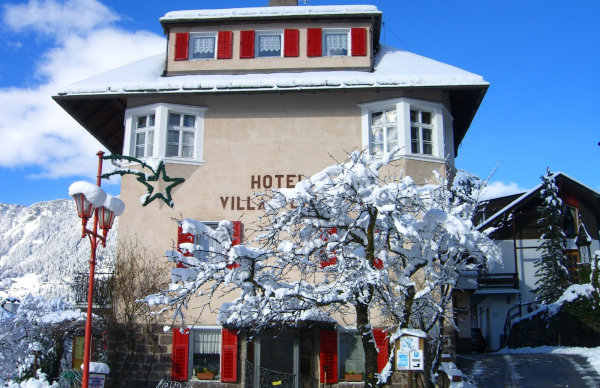 Depart Boston or Newark on Friday night. Arrive in Germany Saturday Morning.
Return from Italy Saturday afternoon, arrive back in the USA same day, Saturday evening.
Motor coach transfers to/from Munich airport, to/from our hotel in Val Gardena, Italy.
Additional activities:
Reservations:
Hold your spot with a $395 deposit and your $50 2024 membership.
Price based on double occupancy with no hidden charges!
Limited number of single rooms available.
View every detail of your account/reservation on-line any time.
Payment plan available (Final 15-DEC: 5 payments).
Payments by check, bank transfer, on-line or at any Bank of America.
Trip SWAG, great trip agenda, events & more included!
Call 888.828.0096 or email any time (7 days) for more details.
Dolomites, Val Gardena, Italy
Why Ortisei? We've enjoyed numerous towns and villages throughout the Dolomites region over the years, and Ortisei remains a favorite among our club members. It exudes an upscale vibe, boasts numerous amenities (including covered moving sidewalks, lockers, rentals, and tuning right at the gondola), and is less crowded, preserving its charm. Ortisei also provides excellent access to all Val Gardenia, the Sella Ronda, and beyond, without the hustle and bustle of crowded slopes and end-of-day chaos. While it may generally be more expensive, we've secured an excellent deal on our accommodations, complete with multi-course meals and even wine, making it a fantastic value for us!
The Dolomites are a stunning mountain range located in northeastern Italy, part of the Southern Limestone Alps (but not referred to as the Alps, just the Dolomites, Dolomiti or "Pale Mountains"). They are known for their breathtaking natural beauty, with jagged peaks, rocky spires, and vertical walls that glow in shades of pink and orange during sunset. In 2009, the Dolomites were declared a UNESCO World Heritage site.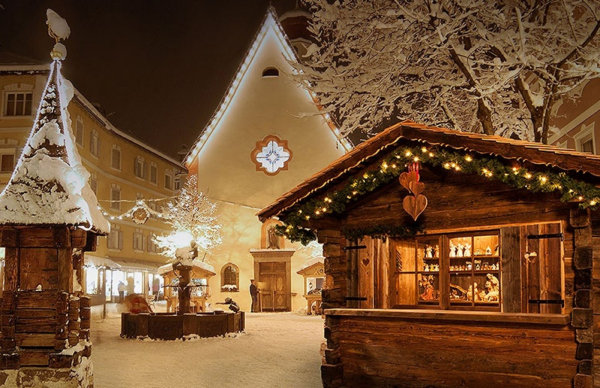 Val Gardena is a beautiful valley situated in the heart of the Dolomites. It's home to several charming villages, including Selva di Val Gardena, Ortisei, and Santa Cristina. The valley is known for its world-class ski slopes and hiking trails with stunning views. Ortisei (where our hotel is located) , also known as Urtijëi, has a vibrant town center with many shops, high-end hotels & resorts, restaurants, and cultural attractions, including several museums and galleries. Ortisei is famous for its rich cultural heritage and traditional handicrafts. The town has a long history of woodcarving, and you will find many shops with wooden sculptures and furniture made by local artisans.
Ortisei, considered the best, is well-known for its excellent snow sports and access to the Dolomiti Superski area, one of the largest ski areas in the world, with over 1200 kilometers of slopes and 450 lifts. The town also has a range of other winter activities, such as ice skating, sledding, and snowshoeing. During the summer months, the town is popular for hiking, mountain biking, and rock climbing. With its rich cultural heritage, vibrant town center, and world-class snow-sports, Ortisei is an ideal base for exploring this breathtaking region!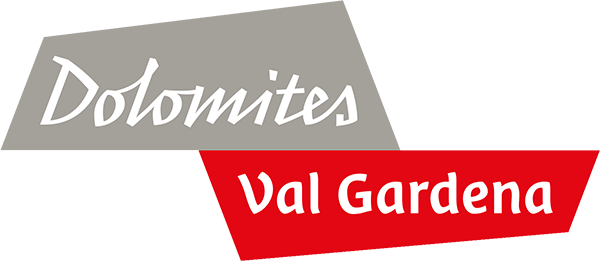 Val Gardena has three main ski areas: Alpe di Siusi/Seiser Alm, Seceda, and Ciampinoi. These areas offer a total of over 175 kilometers of ski slopes, with a mix of blue, red, and black runs, as well as several terrain parks and off-piste areas. The lifts in Val Gardena are modern and efficient, and there are also several mountain huts and restaurants where you can stop for a break or a meal while enjoying the stunning views of the Dolomites.
Food in Val Gardena is heavily influenced by its location in the mountains and the traditional cuisine of the region. One of the most famous dishes is speck, a type of smoked ham made from pork that is cured and seasoned with herbs and spices. Another popular dish is canederli, a type of dumpling made with bread crumbs, eggs, milk, and sometimes speck or cheese. These dumplings are often served in a savory broth or with a meat sauce.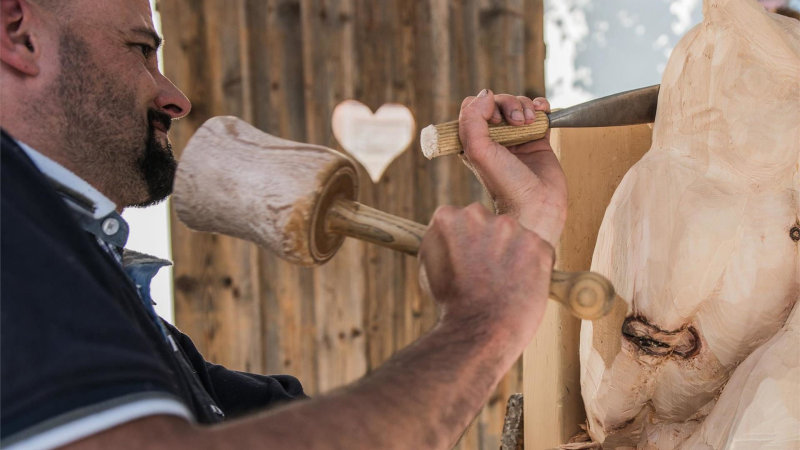 Val Gardena is located in the Trentino-Alto Adige region, which is known for its high-quality wines. Some of the most popular wines from this region include Pinot Grigio, Chardonnay, and Lagrein. Cheese is also an important part of the cuisine. One of the most famous cheeses is Puzzone di Moena, a strong-smelling cheese made from cow's milk. Another popular cheese is Grana Trentino, a hard cheese that is often grated and used as a topping for pasta dishes.
Cross-country skiing: Val Gardena has many cross-country skiing slopes and excellent guides and ski instructors. From the Alpe di Siusi, passing through Mount Pana to the Vallunga. There are 115km of superb trails with some of the most picturesque Cross Country skiing in Europe, with every day a new discovery!
Toboggan downhill rides: We can go up by train to Resciesa (400m from Hotel) and from there head off with our sleds along a 6km track or climb to the Alpe di Siusi for even more fun trails.
Bolzano & Venice
Bolzano
, 45 minutes from Ortisei, is considered a bridge between Northern-Southern Europe, and a different vibe than what you expect in Italy. A charming city and a unique blend of Austrian and Italian cultures which can be seen in its distinctive architecture, delicious cuisine, and the spoken language, which is a mix of Italian and German. Bolzano boasts numerous cultural attractions, including the South Tyrol Museum of Archaeology, which houses the world-famous Ötzi the Iceman, a prehistoric mummy that is over 5,000 years old. Explore the medieval Old Town, wander through the vibrant fruit market, and take a cable car up to the scenic mountain village of Soprabolzano. With its stunning natural beauty and rich cultural heritage, Bolzano was ranked joint first for quality of life in Italian cities in 2020, and Alpine Town of the Year for sustainable development in 2009. Reciently Bolzano capped developmant of visitor accomidation to 2019 levels in an effort to prevent overtourism!
Venice
is an exceptional city, known for its stunning canals, ornate bridges, and ancient palaces that exude unmatched beauty. The city is renowned for its world-class art and architecture, which is prominently displayed in its museums, galleries, and iconic landmarks like St. Mark's Square and the Rialto Bridge. The Rialto Bridge offers breathtaking views of the Grand Canal and the lively Rialto Market, a must-visit spot to buy local food and souvenirs. The city's historic neighborhoods and winding alleys, including the Jewish and Castello district, contain hidden corners and tranquil backstreets that are unique to Venice. Food enthusiasts must savor the city's delectable cuisine, with local specialties like cicchetti and seafood dishes being absolute must-tries. Our Venice excursions are unforgettable, including indulging in a lovely lunch, cruising the canals by boat, and exploring the city's many wonders. Check out our photo gallery below from our previous Venice adventures!
Why Choose Our Dolomites Tour?
Why our club loves Ortisei, Val Gardena: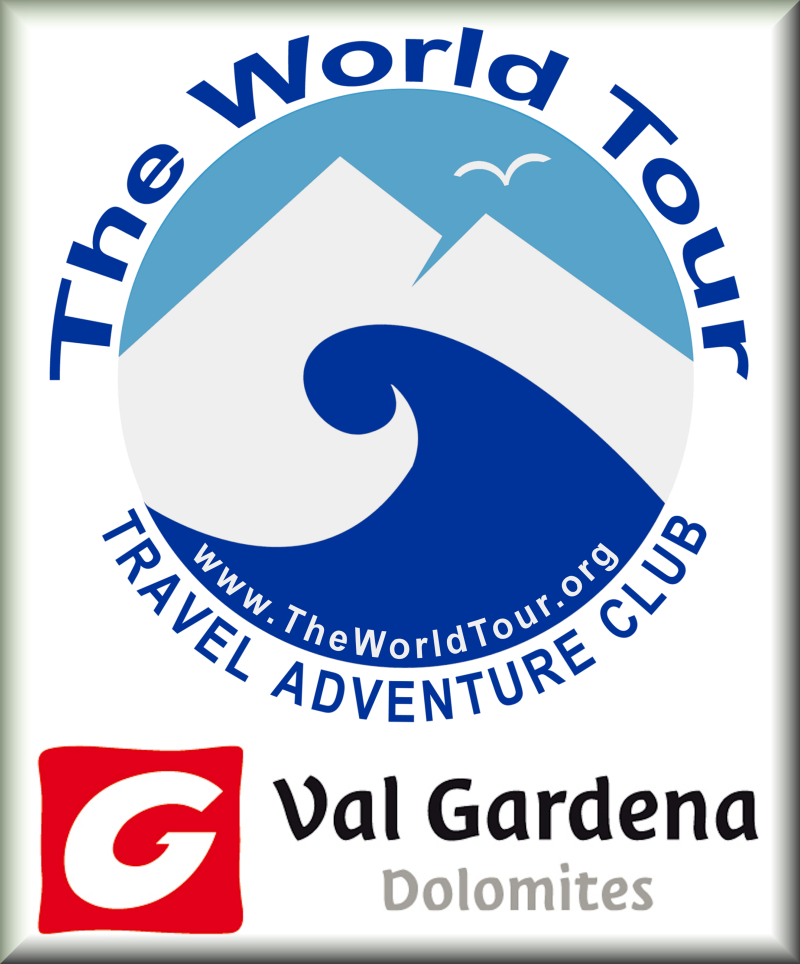 Outstanding value with convenient non-stop flights from Boston and Newark, exceptional cuisine, and numerous inclusions in one of the world's largest and most stunning snow sports destinations.
Historically an ideal week in the Dolomites, avoiding college or school break weeks, and with great snow sports conditions! Europe tends to be better later in the season, February-March, with March usually having the best conditions and no crowds.
Experience the unique landscape and topography of the limestone Dolomites, younger and very different than the granite Alps.
Easy and convenient access to the famous Sella Ronda circuit, one of the most scenic ski routes in the world.
Ski or ride in one of the largest ski areas in the world, with lift passes offering excellent value, especially compared to the USA.
On the IKON pass.
Explore the magnificent historic, old-world town of Ortisei, and the Val Gardena region, a consistent winner of Italy's Best Ski Resort. Beautiful town in an awesome location with great access and options for winter sports, sightseeing and excursions.
Free use of beautiful Mar Dolomit, with indoor-outdoor swimming pool, jacuzzi, sauna and more.
Wonderful non-ski options with "Val Gardena Active", included
Have fun tobogganing with great and easy access to multiple runs suitable for all abilities.
Photos © copywrite of photographer/owners. Photo credit's include: DOLOMITES Val Gardena – Gröden Marketing / www.valgardena.it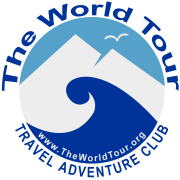 The World Tour
Travel Adventure Club

(888) 828-0096
Boston | New York

E-mail or Call 7 days a week!

Awesome International Club Trips Since 2000!
The World Tour - Travel Adventure Club, LLC
© Copyright 2023. All rights reserved.