Europe Alps Tour
$1,995 Boston/JFK Flights, Hotel & More!
February 17-25 (Sat-Sun) 2024
Italy • Switzerland • France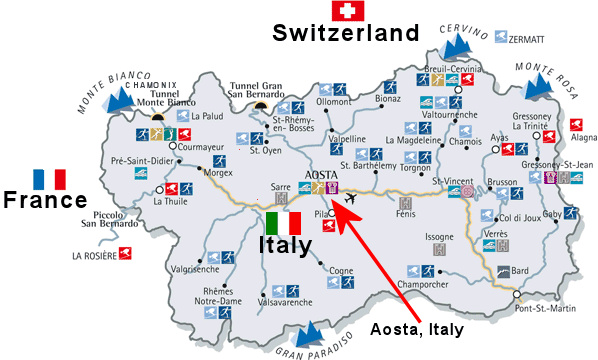 ITALY: Pila, Courmayeur, Cervinia, La Thuile
SWITZERLAND: Zermatt, Verbier
FRANCE: Chamonix, La Rosiere
Vallée Blanche • Mer de Glace

Sightseeing & Snow Sports Trip!
Call 888.828.0096 or Email for Info.
One Room Available
Tour Details: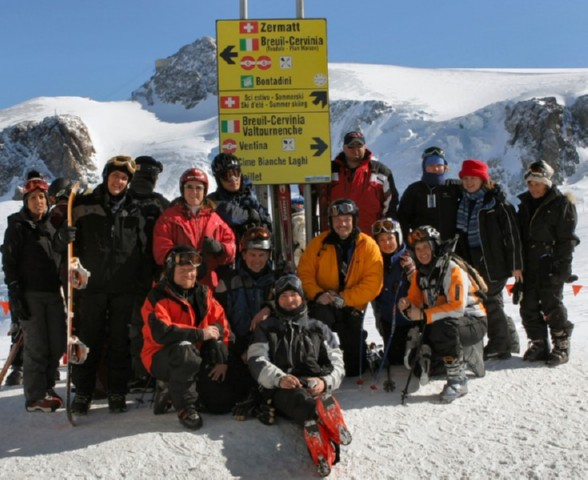 Aosta, Italy:
Club past favorite, like the location, "Rome of the Alps!"
Options to Ski/Ride Italy, France & Switzerland!


Group round trip flights from Boston/JFK INCLUDED
Depart Boston or New York JFK on Saturday evening. Arrive in Aosta Italy via Geneva, Switzerland Sunday
Return from Italy via Geneva Sunday, arrive back in Boston/JFK same day, Sunday evening.

Motor coach transfers from/to airport/hotel in Switzerland/Italy:
Travel from Geneva, Switzerland to France through the Mont Blanc tunnel into Italy and on to Aosta. Coach travel time is 2 hours approx.


7 Nights Hotel Lodging INCLUDED
Breakfast included with flexible dining options
Walk to the Pila gondola
Expect $50 to $75 a day for a lift ticket
Most ski/ride seven areas, three countries, in five days, with more possible!
Great sightseeing opportunities: Aosta, Courmayeur, SkyWay, Turin, Food & Wine Tasting, Historic Sights, Shopping, Milan, Chamonix in France & more!
Walk to Pila gondola, local transportation, shopping, nightlife, restaurants, etc.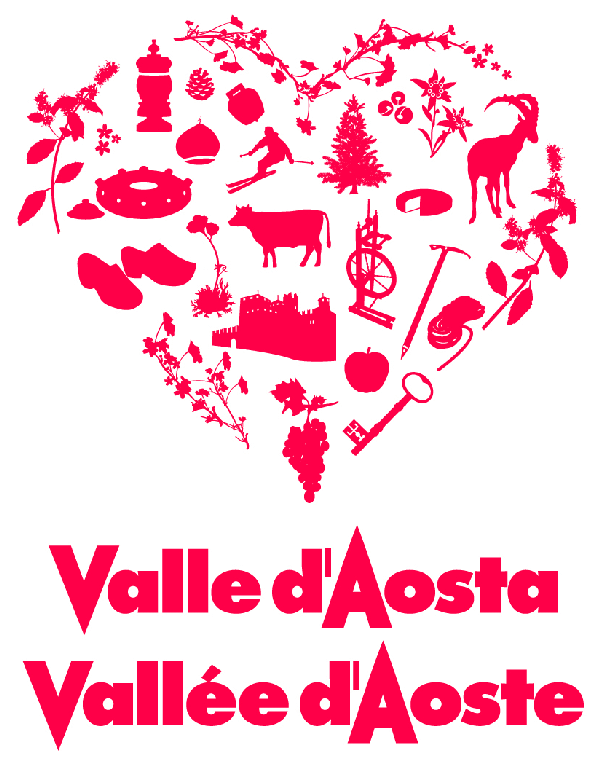 Reservations:
Hold your spot with a $495 deposit and your $50 2024 membership.
Price based on double occupancy with no hidden charges!
View every detail of your account/reservation on-line any time.
Payments by check, bank transfer, on-line or at any Bank of America.
Trip SWAG, great trip agenda, events & more included!
Call 888.828.0096 or email any time (7 days) for more details.
Aosta Valley, Italy
About The Aosta Valley:
Valle d'Aosta (Wikipedia) is the smallest and least populated region in northwestern Italy. Although tiny in size, it packs a punch with sharp Alpine peaks and a unique cultural mix that charmingly fuses Italian and French cultural heritage. The Valle d' Aosta is a real paradise for winter sports, situated on the Swiss and French borders, surrounded by the most prestigious Alpine peaks of Mont Blanc, Monte Rosa, the Matterhorn and the Gran Paradiso. Because of its location, on the border of France and Switzerland, skiers/boarders have the opportunity to ski/ride three countries in one week!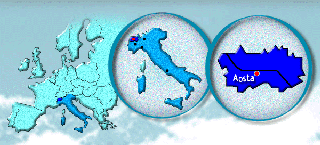 Lots of Extra Features:
Day trips to Turin, Chamonix in France, Italian castle tours, Milan, Courmayeur, Cervinia-Zermatt; La Thuile-La Rosiere, Dog sledding, Hot air ballooning, Guided Heli Skiing and Guided Vallee Blanche Glacier Run!
Aosta Culture and History:
Aosta, known as Rome of the Alps or little Rome, is truly a Roman town, you can tell by the remains of the monuments from the Roman times (the founders of Aosta). These remains include: The town walls, the Arch of Augustus/Arco di Augusto (25 B.C.), the Roman Amphitheatre and the Roman Forum. The architecture, the piazzas, the cafes — it's a great place to enjoy what this unique region has to offer. The center of town is a pedestrian area which makes it easy to see the sights. The Porta Pretoria is a gate worth seeing, the Cathedral is an 11th century Romanesque church on the outside and a Gothic church on the inside. The town hall is also worth a look (Palazzo del Municipeo), as it is medieval in style. The Museo dell'Accademia di Sant'Anselmo and the Alpine and Archaeological Museum are worth a visit too. Market day (not to be missed) in Aosta is Saturday.
Regional products include honey, bread, cured meats, and produce such as cabbage, grapes, apples, pears, and garlic. Also famous from the Aosta Valley are cheeses such as toma and fontina – both of which are commonly found in local specialties throughout every course. Notable wines include two white wines from Morgex (Blanc de Morgex et de La Salle and Chaudelune), a red wine blend from Arvier (Enfer d'Arvier) and one from Gamay.
Valle d'Aosta is known for a wide variety of regional specialties that are deeply rooted in its culinary history and traditions. Some of the most famous specialties include Carbonada stew, Jambon de Bosses cured ham, Motzetta cured beef sausage, Teteun soup, and Torcetti biscuits. These dishes showcase the region's use of local ingredients, traditional preparation methods, and unique flavor combinations. Whether you are looking for hearty stews, flavorful cured meats, or sweet treats, the Aosta Valley's regional specialties are sure to tantalize your taste buds and leave you craving more!
Skiing & Snowboarding
What to expect:
There is a lot to do for the non-skier or casual skier/boarders. For enthusiastic skiers and boarders, most ski/ride seven areas, in five days, in three different countries (Italy, France & Switzerland), in sight of two of the world's most famous mountains (the Matterhorn and Mont Blanc), with a day off from the slopes, sightseeing, but you could do more!
Also, for all interested, you can do the famous Vallée Blanche run - Mer De Glace, on every skier/boarders bucket list! An 11+ mile glacier run starting from the new Mont Blanc Skyway in Italy and ending in Chamonix, France, where you come back from France via the Mont Blanc Tunnel!
More Sightseeing Opportunities...
Castles & Archaeological Sites

Valle d'Aosta is breathtaking, nestled in the heart of the Alps, and has been a crossroads for peoples, languages, goods, and traditions since prehistoric times. Over the centuries, a rich and diverse cultural heritage has flourished, ranging from the Mesolithic era to the present day. The region boasts awe-inspiring megalithic structures, enigmatic petroglyphs, and the fascinating legacy of the Salassi people, as well as the remarkable colony of Augusta Praetoria from the Roman Age.
Valle d'Aosta is a borderland that has been shaped by a myriad of influences, particularly during the late-antique period. It is adorned with imposing castles, towers, and bell towers from the medieval era, while the artistic expressions from the Renaissance, to the Baroque age, have been enriched by various impulses and suggestions. The region continues to be a treasure trove of history and culture, where visitors can trace the footsteps of the past and marvel at the enduring legacy of this magnificent land.
There are a multitude of castles, archaeological sites, museums, and engaging attractions, easily accessible from our hotels. All of these can be found in Aosta or reached via local public transportation. The following are just a few we have enjoyed in the past.
CASTLES:
Aymavilles Castle
, 15 min. from Aosta, is striking, at the entrance to the Cogne valley. The current appearance is the result of the eighteenth-century interventions commissioned by the owner, Jospeh-Félix de Challant , who decided to reconcile the Middle Ages and the Baroque in a single, eclectic structure. Today the castle tells two stories of nineteenth-century collecting, and of the Accademia di Sant'Anselmo, a savante society with the local historical memories.
A sort of nineteenth-century, welcoming house-museum surprises the visitor, but the story of the medieval remains is never lost, which reaches its peak in the attic with an original splendid structure with wooden beams dating back to the fifteenth century.
Sarriod de La Tour Castle
, 25 min. from Aosta, is a remarkable example of medieval architecture and art. The chapel houses paintings from the 13th and 15th centuries, while the rare and well-preserved ceiling of the heads is a true gem. The ceiling features sculpted heads of fantastic creatures and half-dressed human beings, creating a wooden forest of extraordinary originality. The castle also showcases furniture and paintings belonging to the Sarriod de La Tour family, who owned the castle for almost nine centuries. Located in the plain of Saint-Pierre and built in the 13th century by Guillaume Sarriod, it consists of a tower enclosed by a small rectangular enclosure, a symbol of power and authority. the castle is now a must-visit tourist attraction.
Verrès Castle
is a magnificent medieval fortress located 45 min. from Aosta. The castle dates back to the 14th century and has been beautifully preserved over the centuries. Explore its many rooms, including the grand hall, the chapel, and the armory. Its museum features numerous artifacts, including weapons, armor, and medieval furniture. Enjoy the stunning views of the surrounding countryside from the castle's ramparts. Verrès Castle is a must-see for anyone interested in medieval history and architecture.
Gamba Castle
, 45 min. from Aosta, in Châtillon, built by Baron Carlo Maurizio Gamba is among the newest in the Aosta Valley castles, constructed in the early 20th century. It resembles a palace with a vast park offering a breathtaking view of the entire valley. It is home to the modern and contemporary art collection of the Autonomous Region of Valle d'Aosta, and the latest work of art, Orbita by Massimo Uberti, was added to the collection and serves as the centerpiece in the central tower. The castle also features the first lift in the Aosta Valley, designed to help the Baron's wife, Angélique Passerin d'Entreves, move between the different floors.
Fénis Castle
is a medieval fortress located on a small promontory and only 45 minutes from Aosta. Despite having no natural defenses, the castle's imposing appearance includes towers, crenellated walls, loopholes, and corbels, creating the classic image of a medieval castle with a formidable defense system. The castle is well-known for its Gothic-style pictorial cycles and is a popular tourist destination.
After going through a period of abandonment and even being used as a farm, Fénis Castle was purchased by architect Alfredo d'Andrade on behalf of the State in the late 19th century. He restored the castle, saving it from imminent ruin and preserving it for future generations to enjoy. Today, Fénis Castle is a well-preserved and fascinating attraction that provides visitors with a glimpse into the rich history and architecture of the Valle d'Aosta region.
ARCHAEOLOGICAL SITES: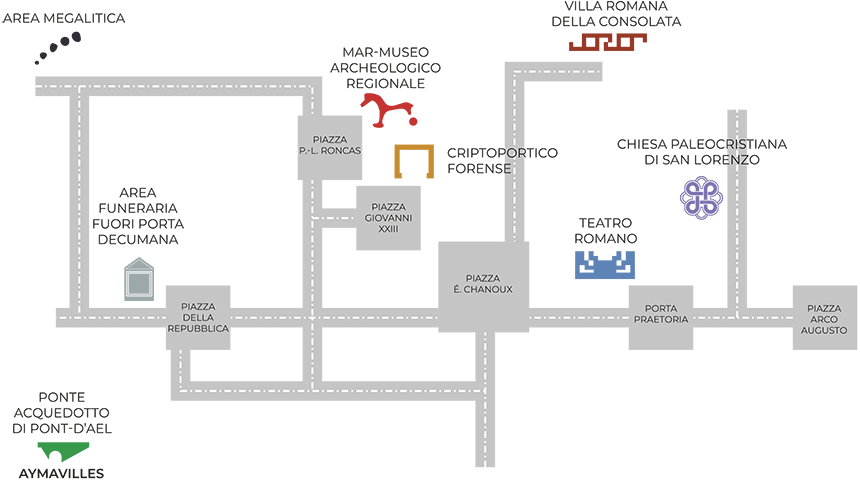 Numerous sites offer a fascinating glimpse into the history and culture of the Aosta Valley, and are definitely worth a visit for anyone interested in archaeology, history, or ancient civilizations.
Roman Theater - Aosta: Built in the 1st century AD, this impressive theater could accommodate up to 4,000 spectators and was used for various performances and events.
Augusta Praetoria - Aosta: This archaeological site is the remains of a Roman military camp, which was established in 25 BC and later became a bustling city, known as Augusta Praetoria.
Arch of Augustus - Aosta: Built in 25 BC, this triumphal arch was dedicated to Emperor Augustus and served as the entrance to the ancient Roman city of Aosta.
Sant'Orso Complex - Aosta: This complex includes a Romanesque church and a cloister, and is home to an archaeological museum that displays various artifacts from the region's Roman and medieval past.
Cryptoporticus - Aosta: These underground tunnels were part of the Roman forum and were used for storage and as a shelter during bad weather.
Saint-Martin-de-Corléans - Aosta: This is an important archaeological site that includes a complex of early Christian buildings and medieval structures.
Lago di Cignana - Valtournenche: This site is home to several ancient rock engravings, some of which date back to the Neolithic period.
The Megalithic Area of Saint-Martin-de-Corléans - Aosta: This site features several megalithic structures, including menhirs and standing stones, dating back to the Bronze Age.
Celtic Settlement of San Lorenzo - Aosta: This is the remains of an important Celtic settlement that dates back to the 5th century BC.
The Roman Aqueduct of Pondel - Aosta: This aqueduct, which dates back to the 1st century AD, was used to transport water from a nearby source to the city of Aosta.
CITIES:
Turin
, 90 minutes from Aosta, offers a unique blend of history, culture, culinary delights and is known for its elegant architecture, wide boulevards, and beautiful parks. Some must-see attractions include the Mole Antonelliana, a famous landmark and museum with panoramic city views from the top; the Royal Palace of Turin, a grandiose residence and art gallery; the Turin Cathedral, home to the famous Shroud of Turin; and the Egyptian Museum of Turin, one of the most important collections of Egyptian antiquities in the world. Other interesting sights include the Piazza Castello, the Palazzo Madama, the Basilica di Superga, and the Valentino Park. Explore the city's markets, such as the bustling Porta Palazzo, to sample local cheeses, meats, and produce. Turin is known for its delicious cuisine and bustling markets, making it a perfect destination for foodies, sightseers and shoppers alike.
Milan
, 2½ hours from Aosta, is a stunning city with plenty of sightseeing opportunities. The impressive Duomo di Milano, an iconic Gothic cathedral that towers over the city, Galleria Vittorio Emanuele II, a luxurious shopping arcade, and La Scala, one of the world's most famous opera houses. Art lovers will enjoy the Pinacoteca di Brera, an art museum with an incredible collection of Italian Renaissance paintings. Milan also boasts a thriving contemporary arts scene, with numerous galleries and boutiques in the charming Brera district. Visitors can also explore the city's canals, known as the Navigli, which are lined with restaurants and bars, making them a great place to relax and soak up the local atmosphere.
In the past we have enjoyed Corso Buenos Aires, with over 350 shops and outlets, it features the highest concentration of clothing stores in Europe. We recomend you plan your trip/tour or hire a local guide. Milan is great but don't miss Turin!
Why Choose Our European Alps Tour?
Why our club loves Aosta:

Great skiing & riding, WORLD CLASS destinations with options to ski/ride Italy, France & Switzerland in a week! Considered our best tour as it offers the best resorts/destinations, value and diversity, with something for everyone.
Not just about world-class snow sports, with sightseeing, touring, history, shopping, food tasting and more. We had a cooking class on one of our previous Aosta adventures!
Aosta is in a super location, with all resorts relatively close, right on the corner of France & Switzerland with cross boarder skiing and snowboarding between Italy & France and Italy & Switzerland.
Aosta (like Innsbruck, Austria 2023) has immensely improved in terms of tourism and activities over our 20+ years of visiting. Our last tour February 2020 was amazing! Aosta (much smaller and more compact than Innsbruck) has many cafes, bakeries, restaurants, wine & food tastings, gift shops, bars, entertainment, pizzerias, take-a-ways, and a whole lot more all within walking distance of our hotels!
Abundance of entertainment, dining, shopping, and sightseeing options. Famous Turin is a 90 min bus ride from Aosta for another great day of sightseeing! Join us in Courmayeur, Italy and Chamonix, France for skiing, sightseeing or both, many options in this beautiful part of the world!
"Big name" ski/ride areas including Chamonix, Cervinia, Zermatt, Courmayeur, and if your up for it, the Vallée Blanche Glacier!
Many convenient sightseeing options including The SkyWay, Aosta, Courmayeur, Turin and Chamonix in France.
Magnificent old-world European city staying next to the historic "Old Town".
Wide range of skiing & riding at multiple diverse/different resorts for all abilities.
Flexible dining (Great restaurants & eateries!) options.
We've had many club trips to the Aosta region over the decades, it's immensely popular, often referred to as the Rome of the Alps, even more so now with recent excavations and a great visitor center. With planning every trip, our goal is always to exceed our previous trips with as much value as possible, in terms of total cost, organization, enjoyment, and our awesome trip agendas!
Our trip departs Saturday from Boston / New York and returns the following Sunday, so no weekday flights.
PREFECT for education professionals and those limited to February vacation week. Don't expect the crowds that you get in the USA as February vacation is staggered in Europe and the lift system is large and vast! Mid-Term break or February vacation in Europe (Ireland & UK) is the week before our tour!
February vacation, president's week: Our club has been running our February vacation week trip for over a decade, one of the best weeks to ski & snowboard Europe. Europe's best ski/ride snow conditions are typical mid-February through mid-March.
Lift passes are inexpensive and flexible. Expect $50 to $65 a day for a lift pass and a multitude of pass options to choose from.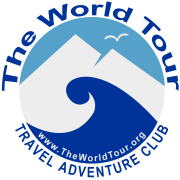 The World Tour
Travel Adventure Club

(888) 828-0096
Boston | New York

E-mail or Call 7 days a week!

Awesome International Club Trips Since 2000!
The World Tour - Travel Adventure Club, LLC
© Copyright 2023. All rights reserved.